Are You Searching for a Rewarding Career In The
Health Care Profession? … Consider This!
North Carolina School of Advanced Bodywork
A Clinical Massage & Bodywork Therapy School
500 Hours – 6 or 12 Months
Charlotte, NC
A Serious Education For Those Serious About Their Future
O

wned & Operated by Clinical / Medical Massage & Bodywork Professionals …

 
 ~ Four Class Starts Per Year ~
March / June / August / November
500 hours taught in 6 months full time or 12 months part time
Now Offering Full & Part Time / Day or Evening Classes,
to accommodate busy lives and financial needs.
---
Next Clinical Massage Therapy Class Begins
November 27, 2017
Please Call Now to Schedule
Your No Obligation School Tour &
Interview for Prospective Students
(980) 224-8449
Sit in on a class, meet the students and the instructor of the day, ask questions, see our campus, and see why NCSAB should be your training choice to become an In-Demand Licensed Massage and Bodywork Therapist!
Find out why NCSAB should be your Foundational Choice for a Career You'll Love. Become an In-Demand Licensed Massage Therapist in just 6 months!
You Owe it to Yourself to Pursue a Career You'll Love!
---
Why Clinical Massage and Structural Bodywork Therapy? . . .
Because . . .
Chronic pain affects 97 million Americans and
costs about $100 billion each year.
(Statistic from Brain Facts, Society for Neuroscience, 2008)
 Enrolling at the North Carolina School of Advanced Bodywork
will set you apart from many in the industry;
Here you will become part of an ELITE GROUP of
Massage & Bodywork Professionals
You owe it to yourself to make an informed decision;
Come by and visit us and you'll see the difference 
---

I have been competing as a professional athlete for 25 years as well as training professional athletes for 15 years. From my own experience as a World Champion and training world class athletes I know it takes a team of highly competent professionals in a few key areas for an athlete to achieve the pinnacle of his or her sport. Kyle Wright is one of those highly competent professionals. I have learned many valuable lessons on myofascial tracks and their effect on performance. Kyle is the master in neuromuscular bodywork. He knows the importance of postural function and the kinetic chain. He knows and understands movement function better than anyone in his area of mastery. Is it any wonder his schools and publications are the standard in the industry?

Gerry James, PGA Professional
2005 & 2006 World Long Drive Champion
1990 Mr. California Over All Bodybuilding Champion

---

Your New Career as a Leading Edge,
Clinical Massage & Bodywork Therapy …

AWAITS YOU, In Charlotte, North N.C.

As a Doctor of Physical Therapy, studying with Kyle at NCSAB helped me to hone my soft tissues skills and take them to another level. I now have something beyond my general soft tissue training in graduate school to help my patients that have soft tissues injuries, including strains, sprains, and inflammation. I know the pain referral patterns, as described by Janet Travell & David Simons, and the different ways that certain injuries and disruptions may present themselves in the clinic and in every day life. I also know ways to sink deeply into muscle and fascia without overstimulating a patient, or causing too much pain. If you're considering a career in massage therapy, but want to help your clients do more than just relax, look no further than NCSAB. This school will go beyond the basics and provide you with an "edge" that will help your career just as much as it will help your clients.

Tricia Renshaw, DPT

Asheville, NC

---
The NCSAB Teaching Staff …
has 60 years combined experience in the massage and
bodywork profession both in practice and instruction.
Although there are many naturally gifted teachers out there, practical experience is a major plus when teaching certain important aspects of clinical massage therapy. Be sure you check into that when you are examining different schools.
Discover your Pathway to Superior Competency and Status


among the Elite of massage and bodywork professionals.
Small Class Sizes, Individualized for Superior Education
Tuition:  $8000 (Includes Application Fee $75, Text/Supplies $300, Tuition $7625)
Payable all up front OR Half up front, Half at Midterm OR
Payment Plan:  Minimum Down Payment:  $1500
Remaining Balance:  $6500; Add 8% Flat Finance Charge to the Remaining Balance: $520
Total $7020 divided by 6 = $1170/month; divided by 12 – $585/month*
*Full time students (6 months) may take the 12 month payment plan.  You will be allowed to take the state board exam and walk at graduation.  You would receive your diploma needed to obtain your license upon payment in full.
---
"It's always nice to see when therapists quiet their minds and quiet their hands; the recipient of the bodywork goes to a deep level of parasympathetic state, which allows for a deeper level of entry into the deeper levels of the body. When the recipient experiences no fear, resistance, guarding and armoring and no pain during their session, their muscles are more able to achieve relaxation and longer lasting results."
Kyle C. Wright, LMBT
*************************************************************
NCSAB is a board approved and licensed massage therapy school by the state of North Carolina (BMBT.org). We offer a 500 hour program that meets North Carolina licensing laws to obtain your License to practice as a Licensed Massage and Bodywork Therapist (LMBT) in the state of North Carolina.
Prepare for the licensing test, the Massage and Bodywork Licensing Exam (MBLEx) with a school that has maintained a high pass rate for over 5 years!
What are you waiting for?
Enroll Today at (980) 224-8449
 A Message From Kyle Wright
Founder & Developer of NCSAB
"After you get to know my work a little better, we can talk about your concerns and ambitions. we can help you decide if massage therapy is the profession for you, and whether NCSAB is the place for you to learn." ~ Kyle C. Wright
 — Watch Full Screen —Button in Lower Right Corner of Video
---
All I can say is I am so lucky to have found The NCSAB!

I give thanks at least once a day for what Kyle and the amazing teachers at NCSAB have taught me. The education you get here you will not find anywhere else. Having graduated just over a year and a half ago I am a league ahead of even seasoned therapists in my approach to bodywork.

You are not just learning massage; you are learning a unique set of skills and a way of thinking about the body that will make you stand out as a therapist. What I have come across with other therapists is that what they were taught in their initial training is often times wrong and they have to unlearn a lot of what they were taught. It is much easier to continue building off a solid education than having the challenge of forgetting everything you learned. If you are someone who wants to be the best in your field and make a difference in peoples' lives then this is the school for you.

Jennifer L. Wick, RMT
Boulder, CO
Class of March 2012
---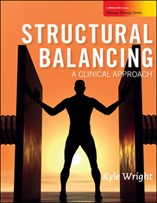 Kyle Wright's book, STRUCTURAL BALANCING: A CLINICAL APPROACH, published by McGraw-Hill Publishing, is the primary textbook used for the Functional Anatomy and Clinical Bodywork curriculum. This clinical textbook was written for massage therapy students as well as physical therapy and chiropractic students. … You can now order this forward thinking clinical manual by clicking on the McGraw-Hill direct ordering website link below.
Clinical Massage Therapy & Structural Balancing
---
Over the past six years, I have had the privilege of working with a number of graduates of [Kyle Wright's schools of Clinical Massage Therapy]. I am engaged in a pain management practice and have found the technical support people who are graduates [of Kyle's schools] to be exceptionally well trained and of immeasurable help in an integrated pain management program.

They have an excellent knowledge of Anatomy and Physiology and their training in Neuromuscular Therapy is very beneficial to my patients who undergo a comprehensive therapy program following injury.

Sanford Z. Pollack, D.O.
President Elect, American College of Osteopathic
Pain Management & Sclerotherapy;
Fellow, American Academy of Disability Evaluating Physicians;
Diplomate, American Academy of Pain Management;
Board Certified, Family Medicine;
Member, American Association of Orthopedic Medicine
---
From Relaxing Swedish to Solving
Complex Neuro-Structural Problems
Notice this is a CLINICAL Massage Therapy School. Most massage therapists practice one or more forms of massage that are very relaxing and healthful, yet general in nature. While modalities like Swedish Massage and Asian Bodywork are useful and valuable in many settings, there is a difference.
Our focus is on you becoming a clinical, soft tissue specialist in managing and resolving significant pain, posture, movement, and dysfunction issues for which many people have not found relief.
In addition to our Leading Edge Clinical Massage Therapy Training, you'll receive excellent education in the skills of Swedish Massage, the more relaxing type of full body massage with oils and all that. This is all great and useful stuff, especially if you want to work in a spa setting or a franchise massage center.
Full-body Swedish massage might well be the original basis for most massage in America. Our highly accomplished Swedish massage instructor will provide you with top-of-the line education in full body, therapeutic massage. You'll be very skilled in these modalities when you finish your program.
Yet you'll have more to offer … much more!
Our Clinical Massage Therapy & Structural Bodywork training are very different therapeutic disciplines compared to Swedish and other Asian or "energy" related therapies. We are primarily focused on Western, science-based and medical approaches for the millions of people suffering from acute and chronic pain, injury and trauma related issues.
We also provide you with skills for achieving optimum physical performance for clients such as athletes, construction workers and others who use their bodies in their work or other activities on a frequent or daily basis. One example is the dental hygienist who's sitting in a twisted and distorted body posture under high levels of stress, for many hours every day. Such work produces many muscular imbalances, in turn creating various aches, pains and other dysfunction.
And those who are not in pain, yet want better posture, movement, balance and coordination, will be amazed at the results you produce. There is also an entire market in corporate and industrial America for working with clients who must sit in front of computers or run machinery all day long, suffering from poor posture and repetitive strain injuries.
Our Clinical Massage Therapy School provides you the ability to understand and effectively identify and manipulate the soft tissues of the body for the purpose of reducing chronic, excess muscle and nerve tension and stress, contributing to the onset of pain and dysfunction. It offers an in-depth look at the various causes, symptoms and conditions of muscle tension and the principles to reverse that tension and stress.
Structural Bodywork scientifically tracks down the aches, pains, and dysfunctions that are not sufficiently responsive to the usual localized treatment (at the location of symptoms) of neuromuscular and myofascial structures.
When you add the scientific elements of clinical massage and structural bodywork to our No Pain, More Gain "Edge" Technique and Structural Analysis Strategies, you'll get the most results in the widest range of myofascial and neuro-structural syndromes. And though Western in nature, we believe, our approach is a no less of a "conscious" system than some of the more esoteric modalities out there.
These elements will be a primary focus of your training, and will prepare you for private practice or employment upon graduation from NCSAB.
---

When I started looking into massage schools, I wasn't even sure about becoming a massage therapist. I knew I wanted to work with the body and help individuals in pain, but many of the massage programs I looked into seemed to have a very broad, general curriculum.

I wanted a program that would give me a solid foundation in anatomy, a thorough understanding of kinesiology and structural assessment, and proven techniques for treating myofascial pain. Well the curriculum and staff at NCSAB delivered all that and more. I feel like I've graduated with all of the above as well as having a support team ready to help me for years to come. NCSAB really is a top-notch school driven by educators passionate about bodywork, and I certainly have no regrets about enrolling.

Zach Brown, LMBT
Asheville, North Carolina

---

As a practicing neurologist, I have found the clinical massage therapy and structural bodywork techniques under the direction of Kyle C. Wright to be helpful in the treatment of my patients. I see many patients with chronic pain from a wide variety of causes, who either achieve no or little benefit from standard physical therapy and medications. I have been impressed with the results obtained with his clinical therapy methods. This is particularly true with patients with primarily soft tissue injuries.
Dennis D. Dewey, M.D.
Jacksonville Neurological Clinic, P.A.
---
Become A Specialist in 
C.E.M.&.N.T.S.
Chronic, Excess Muscle & Nerve Tension & Stress
As David Scott Lynn puts it, we have found that many of the seemingly irresolvable problems people face are the result of Chronic, Excess Muscle & Nerve Tension & Stress, or C.E.M.&.N.T.S. — its medical term is hypertonicity. This is an almost unrecognized source of trouble for large numbers of people, and few health care professionals or therapists have mastered the techniques, strategies and subtleties needed to manage or resolve this widely pervasive cause of many common problems.
Because the ability to contract muscles is, obviously, necessary to function on a daily basis, few recognize it as a problem. The problem with that is that while everyone is pretty good at contracting their muscles, very few know how to truly DE-contract, or fully relax, their muscles.
A well functioning human body must be able to RELAX or DE-contract their muscles just as easily as we contract them. Massage & Bodywork are excellent ways to support your Clients in achieving far deeper levels of relaxation than they've ever experienced.
---

I am a therapist and I own my own practice in Ponte Vedra Beach, Florida. I get to help change and improve people's lives on a daily basis. It's the most satisfying and rewarding way I could ever hope to make a living. Graduating from one of Kyle's former schools made all these opportunities possible. It really did change my life.

Chad Jasmine, LMT, NCTMB
Ponte Vedra Beach, FL

---
Here Are Some Problems that
Chronic, Excess Muscle Tension Cause:
Imbalances between muscle groups
Poor posture & stooping
Faulty movement patterns
Pressure on and irritation of nerves
Trigger Points & referred pain
Myofascial pain syndromes
Disc related problems
Sports related injuries
Faulty ergonomics
General & Specific chronic pain
Many problems of aging
Scoliosis and kyphosis
This Is Your Unique Opportunity
This unique approach to Skillful Resolution of chronic muscle tension and the problems it causes is the primary skill you'll be developing at NCSAB.
Many of our Clients over the years have been to many kinds of therapy — including various kinds of massage and bodywork — searching for relief from a variety of problems. Yet they did not find sufficient or complete relief until they experienced our unique approach to soft-tissue therapy.
This skill — and the related knowledge — is what will set you apart from many, if not most, of the therapists out there today.
So Much In So Little Time?
Now, we can give you what amounts to an advanced education in 500 hours when other schools offer more hours for a more basic training.
We can provide the education you need to be an excellent practitioner of Therapeutic Swedish Massage, while at the same time teaching you how to achieve a higher level of therapeutic skill through our training in Clinical Massage Therapy and Structural Bodywork.
---
The class was amazing at the NCSAB; I am on sensory overload from all the incredible bodywork that we learned!

Jacqui Bowers Livingston, LMT
Elizabethton, Tennessee
---
How Can We Do This?
With over 30 years of experience, Kyle Wright and his faculty have developed and continuously refined the process of teaching this material to a high art. The training curriculum has been precisely thought out and sequenced allowing the material to be delivered in the most efficient and effective way possible. This efficiency combined with a small, high caliber group of students, allows us to teach you far more than the basic requirements in a shorter time.
THIS superior and more extensive education is what my previous students have appreciated about their time with me and my schools. THIS is why you'll see so many positive, 5-star Reviews on NCSAB Facebook page.
If you are already convinced that we might be The Place for You, Call us to hold your place today. Classes are small, so don't delay.
---
My association with Kyle Wright began about 15 years ago. He has treated me for various muscular symptoms which have helped me with my game tremendously. His knowledge of the muscular and skeletal systems of the body has given me an insight on how sports and muscle injuries interact and the subsequent treatment plan needed to alleviate the underlying cause. Kyle has a warm disposition and a keen dedication to the work he believes in. I wish him much success in the years to come.

Vijay Singh, Professional Golfer
#1 Ranked Golfer in the World 2004, 2005
Three Time Majors Champion
---
 In Your Foundational Program . . .
You'll Be Learning:
How to assess posture as a clue to what's wrong

Evaluating movement patterns and walking

How to find the TRUE source of most people's problems

What is The Edge and why NO Pain means MORE Gain

Why light pressure is OFTEN (but not always) better than deep pressure

Precise and Effective Hand Placements for treating soft tissue

The Nature of Fluid Movement, and how to achieve it

The Truth about how to achieve Effortless Great Posture

Why Relaxed and Lengthened Abdominals are actually stronger than tight and contracted Abdominals

How to protect and maintain your own body utilizing proper Body Mechanics
BONUS: Receiving Several Massages A Week!
Be More Relaxed Than You've Ever Been
(or at least in a really long time!)
One of your perks for getting educated in massage therapy is receiving approximately three to four hours of massage therapy per week, every week, in supervised trades with fellow students. That alone is, I think, worth the price of admission to your new Clinical Massage Therapy School. Just learning about how to relax your own muscles is a revelation for many people.
As we teach you to help others relax their chronic muscle tensions, you'll find yours starting to disappear, too. And you'll have the opportunity to learn many other ways of dealing with muscle and nerve tension that often cause a persons' aches and pains.
The reality is there is an Art To Relaxation, and the more you know how to do it for yourself, the more you can help others achieve the deep relaxation their muscles need as well.
A Life Changing Experience Awaits You
For lots of students, their massage education is a life changing experience. Because of the simultaneous inward and outward focus, and getting to know other human beings at a more intimate, holistic level, your sense of what's possible will expand dramatically.
Like many students before you, your career will flourish with the deep satisfaction of helping people at levels that only massage therapy can, and getting them out of pain or other problems of posture, movement and dysfunction.
After completing NCSAB's program, I feel confident in my abilities as a massage therapist & bodywork therapist. I would recommend this program to anyone looking for a clinical bodywork career.

Kelsey Summertop, LMBT
Charlotte, NC
If you decide this is the direction for you, please contact us and schedule a visit.
If you can't make it here, then we'll set up a time to talk on the phone. Either way, pick up your phone right now and call NCSAB in Charlotte, NC at:
Call Today at

(980) 224-8449
Classes are small, and fill up fast. So don't delay,
If you have any questions, you can email us at:
Are You Willing To Be One Of The Best?
I admit that I am biased. I want you here learning from my faculty. That is, IF you want to be among the best and most highly trained massage therapists in America, and maybe even beyond. … IF you want clinical massage to be not just a better job, but a highly valuable profession you can be truly proud of. … IF you want to be a highly successful massage therapist and learn from the best in the business with your new career, making it an integral part of your life …
Then we are the massage therapy school for you, and you are the student for us, and I want you here.
With all the schools out there competing for students, it's not always easy to find people who are fully committed to getting the most out of their education: We live and breath bodywork. We are people who want to be the best, people who know that in a profession like this, the learning never stops.
The instructors here are among the best in the industry. I couldn't imagine a greater opportunity to get a stellar education in this industry.

                                    Gina Canzano
Living On The Edge of Advanced
Bodywork & Life Itself
As you get to know us, you'll understand more about The Edge. It is a central key to providing great bodywork for people and managing many of the aspects of your own life and self.
The short story is that too many people think that deep tissue work has to be painful to work. On the other hand, there are therapists who seldom or never work deep enough. But the best results come when your Client is within their Edges of pain, meaning they LIKE (or are neutral about) what they are feeling, and are not having to tolerate the pressure you are applying to their muscles.
Working with The Edge keeps you, the therapist, and your Client, focused on the internal relaxation and tension release process, making neurological connections, increasing the effectiveness, efficiency and results of your work.
Like much of what you'll be learning with us, there's A LOT more to it than that simple description. Yes, our technique treats the deep tissue. Many say we go deeper than most. The trick is to let the skin and surface tissues release first, THEN go deeper, allowing the No Pain, MORE Gain process to work. You'll learn to deliver deeper bodywork with no pain necessarily involved.
Our entry level program will give you all the tools you need to be a VERY successful practitioner. After 30 years of private practice, teaching and managing five massage therapy schools, my learning never stops either.
In almost twenty years of practice and who knows how many continuing education courses I have taken, there have been two styles that have defined how I practice. The work I learned from Kyle – "Playing The Edge", neuromuscular, and structural rebalancing and so much more. His training has lead to my career working with neurologists, neurosurgeons, Ob/GYN, and pain specialists and has been especially influential in shaping my role in rehabilitation. Thank you for your amazing gifts.

Joe Durant, LMT
Brunswick, Georgia
There is always going to be a Client with a new and different problem that's unique and challenging. As you get better and more experienced, more of them will come your way. And so will your opportunities to expand your knowledge and improve your skills.
Our Instructors ARE Your Big Advantage:
Highly Experienced Massage & Bodywork Professionals
Our Advanced Training & Continuing Education Courses are built upon the principles you'll learn in our Foundational Program, with a high level of continuity and integration. The Advanced and Continuing Trainings are taught by myself and top professionals, people with decades of experience in the treatment room.
As a graduate of a Southeastern School and already being familiar with many of your techniques relating to structural bodywork, my personal expectation was for a simple yet thorough refresher. Though I was successful in renewing knowledge previously gained, I was quite pleasantly surprised at the shear content of the weekend and the ease with which it was presented. I was impressed with your ability to segue from one body component to the next and so adequately build the foundation for solid and effective structural bodywork; also, appreciated was the additional coverage of the body not specifically addressed in the weekend syllabus.

That you were able to include such quantity of content and still maintain an understandable rhythm is evidence that students entering your personal program will gain so much more than from traditional curriculums. Add to that the passion experienced by learning directly from the originator of the program and not just another instructor and it will all add to a marvelous and enriching education. Please accept sincere thanks for the best training I have yet experienced! Also, my best wishes for you and a very bright future in the Charlotte, North Carolina!

Steven Bell, LMBT
Statesville, North Carolina
Your New Clinical Massage Therapy School, the NCSAB, will provide you with the Leading EdgeTraining and hands-on skills not available any where else. NCSAB will bring you many state-of-the-art perspectives and techniques for more effective therapy.
Your Instructors are forward thinking, innovative, and highly experienced professionals with proven, decades-long track records in the treatment room, resolving a wide range of myofascial and neuro-structural pain and dysfunctions.
Your Training will equip you with skills, knowledge and insights leading to employment working in a variety of healthcare settings.
If you are already convinced we might be The Place for You, Contact Us  Now to our school.
What, Exactly, Will You Be Able To
Do When You've Graduated?
Well, it's a wide open field, ripe for innovation and creativity.
One huge market that is opening up is the Baby-Boomers who have started retiring in large numbers. They are one of the most health conscious groups of people we've ever seen.
Another opportunity is working with physicians who understand the value of soft tissue therapy treatments for many of their patients' painful afflictions difficult to treat by other means.
I have referred many patients to Mr. Kyle Wright, LMT, NCTMB, for clinical neuromuscular and structural bodywork. These have been my patients with soft tissue dysfunction, generally secondary to trauma. My experience has been positive, in that the patients involved have increased range of motion of the affected areas and have a decrease in their complaints of pain. I have found this type of therapy to be a very useful modality in the treatment of soft tissue disorders. I have found Mr. Kyle Wright to be an articulate and competent therapist.

Ronald W. Dennie, M.D.
Physical Medicine and Rehabilitation
Another market is athletes and sports enthusiasts. Most of us have heard about top athletes who consider some form of massage or bodywork as vital to their professional success and injury prevention.
I have been playing on the PGA [Professional Golf Association] tour for 9 years. It is a tough road paved with hard work, dedication, victories and disappointments. Just one year into my career with the PGA, I began suffering from back pain. As time went on the pain intensified, forcing me to seek out help. I consulted with specialists from around the country and found only minimal and temporary relief. Eventually I sat down with several different neurosurgeons, reluctantly discussing my surgical options, feeling that I had reached my last resort.

Then 3 years ago during a tournament at the TPC Sawgrass, I was introduced to Kyle Wright. I had heard of him from around the circuit from players such as Vijay Singh and Davis Love III and many others, as being the one to see for pain related issues. When he shook my hand and began to speak, I knew I had met someone truly amazing. He exuded a passion for his work like no one I had ever seen. He knew the human body and more importantly he knew golf and the relationship between the two. Prior to working with Kyle I questioned my future as a pro-golfer, fearful that pain would be the determining factor for the things I could do. Since working with Kyle, I feel like I have taken back control. Pain is no longer my main focus on the course, once again my game is. To golf is to fulfill a passion. To play on the PGA tour is to fulfill a dream. Thanks Kyle, for having such passion to help me meet my dream.

Brent Schwarzrock
PGA Tour Player
I personally have worked with a number of world-class, professional athletes who've been extremely appreciative of the benefits my approach to therapy has provided them. But please bear in mind that if I was using techniques most therapists use, and that I used in my early days as a therapist, I most likely would not have gotten the level of results I did with many of my Clients.
I firmly believe you will be hard pressed to find this approach in many places in America.
Unfortunately, I cannot guarantee how well you will do as a professional massage and bodywork therapist. Only you can determine how dedicated and hard working you will be. It takes work to get started and build a practice. But in truth, you are only limited by your imagination and willingness to work hard, along with the quality of your training. And of course, if you go into private practice, like any other business, you will need to develop your marketing and networking skills, that we will help get you started on.
Become A Self-Employed, Private Practitioner
OR A High-Value, In-Demand Employee
One common choice of graduates is to develop a self-employed, Private Practice. With the right training and personal motivation to get the word out to potential Clients, this option affords you:
Setting your own hours
High career satisfaction
Helping people on a daily basis
Contributing to society
Low stress environment
Choosing Who you want to work with as Clients 
Design your life the way you want it
Alternatively, you can work in a wide range of employment opportunities:
With Physicians (medical, chiropractic, osteopathic) — that employ licensed massage and bodywork therapists
In Health Care Facilities
In Health & Athletic Clubs
In Spas & Resorts
Become a well respected Instructor of Massage Therapy
For you to take advantage of these opportunities, I truly believe the North Carolina School of Advanced Bodywork, Inc. is a unique school specializing in providing you with the most advanced clinical massage therapy training available in the country.
Next Clinical Massage Therapy Class Begins
November 27, 2017
Please Call Now to Schedule
Your No Obligation School Tour &
Interview for Prospective Students
(980) 224-8449
Sit in on a class, meet the students and the instructor of the day, ask questions, see our campus, and see why NCSAB should be your training choice to become an In-Demand Licensed Massage and Bodywork Therapist!
Over many years Kyle Wright has brought Neuromuscular Therapy into my office. Through his knowledge and clinical experience, he has been an integral part in the assistance of correcting neuromuscular skeletal dysfunctions. This soft tissue work that has been used as an adjunct to spinal manipulation, works hand in hand to assist the patients through the biomechanics of reversing their conditions. … Neuromuscular Therapy, particularly through Mr. Wright, is a great asset and brings a new dimension to my practice and the healthcare field.

Dr. Joseph J. Altomare, D.C.
Chiropractic Physician
Learn More About Kyle C. Wright,
Founder of NCSAB
I was founder of the Wright Centers of Advanced Bodywork in Jacksonville and Ponte Vedra Beach, Florida. I have successfully treated many people, including the rich and famous. My track record as an instructor and therapist is unparalleled in the field.
My career as a Clinical Massage Therapist includes:
30 years clinical experience restoring pain free bodies
Changing or Restoring people's lives in the process
80,000 patients treated throughout his career, and still going
Worked successfully with neurologists, chiropractors, podiatrists, dentists, osteopaths and nearly every health care discipline you can imagine
A proven educational resource to physicians, including lecturing to conferences for osteopathy, chiropractic, physical therapy, strength & conditioning coaches
Speaker to Mayo Clinic's Florida Physical Therapy department
In 1999 to 2002, on the teaching staff of UNF Complimentary Alternative Medicine (CAM) program on muscular imbalances and myofascial
pain syndromes
Speaker to numerous massage related conventions, including the 2007 FSMTA state convention, with highest ratings of presenters
Massage Therapist of the Year in 1992 by the North Chapter of FSMTA
Therapist to many top professional golfers on U.S. & European tours
2004 massage therapist for the NFL Jacksonville Jaguars
2016: Presenter of Structural Bodywork to the Physical Therapy Dept at UNC Hospitals, Chapel Hill, NC
I had to quit golfing for 6 years from a nagging shoulder injury. After 3 treatments from Kyle Wright and with bi-monthly maintenance, I am playing again, pain free. After visiting various healthcare professionals, I was amazed by the results achieved through his specific clinical massage therapy techniques. I have referred other professional athletes to Kyle including the former PGA Commissioner Dean Beman, Calvin Peete, Rick Berry, Jim Hallet, Vijay Singh and Rocco Mediate.

Bill Reid
Director of Golf
T.P.C. Sawgrass
I was the Founder, CEO & Curriculum Developer of the original five Southeastern Schools of Neuromuscular & Massage Therapy located in Florida and North and South Carolina, which I owned and operated successfully for 17 years. After years of developing and managing a large administrative and teaching staff, I wanted to get back to the basics and a higher quality of life. I sold my five schools and moved just outside of Charlotte, in the quaint town of Fairview, North Carolina, and started the original North Carolina School of Advanced Bodywork. Now, the NCSAB has relocated to Charlotte, NC.
Wanting to stay on the Leading Edge of the massage therapy profession, the school is extremely dedicated to providing you with highly advanced skills serving you well in becoming an integral part of the healthcare industry. I will be limiting attendance to 20 students per class.
My track record in providing top quality training to new massage therapists includes:
8,000 plus graduates with extremely high student satisfaction
Physicians seeking graduates of NCSAB for their clinics
Many NCSAB graduates have become leaders in the massage therapy field
Passing the MBLEx, the
North Carolina Licensing Exam
An important criterion in determining the school giving you the best education is the pass rate on the national certification exam. Most states require a passing grade on this test to qualify for licensure, which affords you the privilege to practice in that state.
Your NCSAB instructors are highly experienced practitioners, and are experts and specialists that live and breathe soft tissue therapeutics.
Today I took my lab practical test on the muscles without studying … and I got a 100%!! Thank you Kyle and staff of the NCSAB for such a great foundational education on the muscular system!!

Sarah Danforth, LMBT
Asheville, NC
Even if you have no background in massage therapy, my faculty will take you step by step through the process of learning the basics. Upon graduation, you'll be among the most highly trained massage therapists in the country. You'll understand and be competent and efficient in treating the most common soft tissue pathologies experienced by the vast majority of Clients or Patients.
If you are already convinced that we might be The Place for You, Notify Us  Now to the NCSAB! … You'll be VERY glad you did!
Our State-of-the-Art Text Book
I have to give due credit to one of MY former and most influential teachers, David Scott Lynn. He contributed three chapters to the completely revised and professionally published version of my 380-page text book, Structural Balancing: A Clinical Approach. Many of the concepts I teach, and you will be learning, at NCSAB, I learned from David in one of his DSL Method series of workshops for bodyworkers in the early 1990s. This is among the Leading Edge material I will be incorporating and teaching you. It includes both Therapeutic Yoga and Hands-on, Structural Bodywork.
Here are just two testimonials about David's work:
Application of these Teachings will take Yoga to new heights in the Western World. The DSL Method is profoundly sensible.

Leslie Hunter
Yoga Teacher
Sedona, Arizona

Having had experience with many different bodyworkers, David's [DSL Method] technique is certainly unique. There are levels of healing he achieves I've never seen before. This is clearly a result of a vast knowledge of anatomy and physiology combined with decades of hands-on experience.

Dr. John Bordiuk, M.D.
Nutritionally Oriented M.D. & Yoga Teacher
Marino Center • Wellesley, Massachusetts
Well, that about wraps up what I have to tell you . . . for now. But as you can guess, my faculty and I have MANY more things to tell you and show you.
So Please, CLICK HERE: Notify Us Today!
Or if you have questions, just pick up your phone, like right now, and give me a call at:
(980) 224-8449
OR, send us an email message at admissions@ncsab.com.
Let's see what we can do to help you establish yourself as a Leading Edge Practitioner in Clinical Massage Therapy and Structural Bodywork in Charlotte.
I previously taught classes with 50 to 60 students at a time, and everyone got what they needed. At this time in my life, to maintain a higher level of personal interaction, my faculty is accepting 20 students only per class, so please start the process right now.
Next Clinical Massage Therapy Class Begins
November 27, 2017
Please Call Now to Schedule
Your No Obligation School Tour &
Interview for Prospective Students
(980) 224-8449
Sit in on a class, meet the students and the instructor of the day, ask questions, see our campus, and see why NCSAB should be your training choice to become an In-Demand Licensed Massage and Bodywork Therapist!
Find out more about our Programs and Advanced Training and Continuing Education Courses.
We look forward to hearing from you soon.
Yours Truly,
Kyle C. Wright, LMBT
DON'T WAIT! … CONTACT US TODAY & GET STARTED