Your Career As A Licensed Massage Therapist
There are no set parameters used to describe the individual destined for a massage therapy career.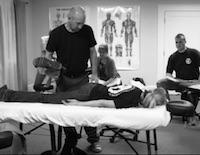 A career as a massage therapist could very well be the end of your journey or just the beginning.  You may graduate, obtain your license and open your own practice or find a place within an already established massage therapy business and find the security you're looking for.  You may decide to continue on in your education, furthering your knowledge and expanding your professional boundaries.  You may find you have a truly unique gift and be empowered to share it with others.
Whatever path opens before you as a result of your ambition to seek out a massage therapy education, you can rest assured it will most likely be a fruitful one.  A career in massage therapy is flexible and personally rewarding.  Occupational opportunities for skillful massage therapists are amazing in today's environment of growing health awareness. According to the Bureau of Labor Statistics employment of massage therapists is expected to increase by 19 percent from 2008 to 2018, faster than the average for all occupations. Employment will continue to grow as more people learn to seek massage therapy as a noninvasive approach to stress reduction and improve overall health and well being.
The following are just a few examples of career paths which licensed graduates of NCSAB are qualified to pursue:
• Self-employment in private practice.
• Employment with physicians in a variety of health care offices specializing in orthopedic rehabilitation, physical medicine, chiropractic, osteopathy, neurology and podiatry.
• Internships learning the art of teaching massage and bodywork therapy.
• Employment in many health related facilities such as health clubs, spas, and resorts.
"I am a therapist and own my own practice in Ponte Vedra Beach, Florida. I get to help change and improve people's lives on a daily basis. It's the most satisfying and rewarding way I could ever hope to make a living. Graduating  from one of Kyle's former schools made all these opportunities possible. It really did change my life."

Chad Jasmine,
LMT, NCTMB
Ponte Vedra Beach, FL
PREVIOUS PAGE || TOP OF PAGE || TABLE of CONTENTS || NEXT PAGE
DON'T WAIT! … CONTACT US TODAY & GET STARTED