Curriculum
In general, the educational objective of the Clinical Massage and Bodywork Therapy program is to produce a balanced therapist. Graduates of North Carolina School of Advanced Bodywork will possess their own mix of skill, knowledge, intuition and caring.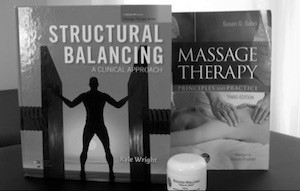 By philosophy, the school focuses primarily on only two modalities of bodywork: Clinical Massage & Structural Bodywork, and Therapeutic Swedish Massage with Allied Modalities. Our rationale is that to become specialized in pain-relieving therapies a student must learn more and more about less and less. Furthermore, in all our contact with the student in and out of class, our school strives to teach and uphold professional ethics, dress and appearance, communication skills, business practices and protocols.
Kyle Wright's book Structural Balancing, A Clinical Approach, published by McGraw-Hill Publishing is the primary textbook that is used for the Functional Anatomy and Clinical Bodywork curriculum. This clinical textbook was written for massage therapy students as well as physical therapy and chiropractic students.
Each chapter contains pertinent information structured in an easy-to-follow format to assist in facilitating the student's learning of the muscles, origins, insertions, functions, and myotomes. Pain referral patterns associated with each muscle, clinical notes for discussion and reference, patient positioning, and treatment strategies are all included.
The Professional Clinical Massage and Bodywork Therapy Program totals 500 clock hours of instruction which includes 40 hours of practical student clinic experience. One clock hour is equal to 50 minutes of instruction and 10 minutes of break over a 5 hour period.
Full Time Program — 24 Weeks (Six Months)
Students will be attending classes Monday through Thursday for 24 weeks. In addition, after the first 3 months, the passing of the Swedish midterm evaluation and meeting all clinic entrance requirements, the student will participate in the Student Clinic.
Part Time Program – 48 Weeks (One Year)
Part Time students will attend Wednesday and Thursday for 6 months and THEN
Monday and Tuesday for 6 months.  Student Clinic – Last 3 months on Fri/Sat
Day Class:  9am – 2pm
Evening Class:  5:30pm – 10:30pm
Students may attend full or part time, day or evening.
Student / Instructor Ratio : 16/1 (maximum)
Course Descriptions
Therapeutic Swedish Massage and Allied Modalities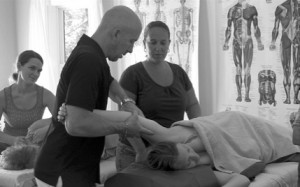 The objective of this subject is to introduce and familiarize the student with the history and theory of massage. Through extensive discussion and hands-on table work the student will learn how important an effective massage can be. The student will learn a typical 60-minute massage routine commonly used in spas and resorts and employ all of the basic strokes in massage. A thorough understanding of the theory of touch and its impact on the body's systems will be expected. In addition to Western theory the class will also cover other massage techniques. Areas of study may include:
• Myofascial Release
• Lymphatic Drainage
• CranioSacral Therapy
• Chair Massage
• Spa Modalities
• Client Charting
• Acupressure
• Stretching / Movement Therapy
• Hot Stone Massage
Business Practices for Massage and Bodywork Therapy 
This course addresses the non-clinical aspects of the Massage Therapy Profession. Areas of study will include: Developing a practice, self employment, marketing, taxes and time management.
Professional Ethics and North Carolina Laws and Rules 
The objective of this content area is to establish professional and legal standards of conduct expected of a member entering the massage profession. The North Carolina laws and rules governing massage, and the NCBTMB Code of Conduct and Ethical Standards will serve as texts. Areas of study include:
• NC Laws & Rules/Ethics & Professional Development
• Clinical Documentation
• Business Practice and Management to treat with minimum physical stress
• Client Charting/Confidentiality
Origin and History of Swedish Massage 
This course explores both the Eastern and Western contribution to the Massage profession of today. The names and contributions of important figures in the history of Massage will be researched and discussed.
Draping Procedures 
This course teaches proper protocols of draping techniques to ensure clients comfort and protection of modesty at all times. This is an important part of achieving the client's relaxation and acceptance of bodywork techniques..
Anatomy and Physiology I
The objective of this subject is to introduce the student to the body's major systems, its structure (anatomy) and function (physiology). The student will learn how each system functions individually, with special emphasis on its relevance to the practice of massage therapy. Attention is given to common pathology of each system and its impact on appropriate massage protocol as well as contraindications to massage.
In addition, a thorough investigation of Eastern Anatomy and Physiology theory is covered. Study will include Meridian theory with emphasis on Yin and Yang, the transformational elements, the understanding of Chi, or Prana, as well as the Ayurvedic Chakra Systems.
Pathology Of The Systems 
The objective of this course is to provide the student with information regarding the diseases associated with each organ system in the body. These pathologies will be aimed at associating the disease as it applies to the practice of Massage Therapy.
Somatic Psychology 
This course addresses issues regarding the line between the physical and the psychological body. Issues brought to the forefront by the personal nature of the therapist/client relationship. Techniques for more effective communications will be presented. Conflict resolution and "at risk" situations are topics dealt with.
Hygiene and Disease Control 
This course presents information regarding procedures and equipment that result in a sanitary environment for the massage session.
Indications and Contraindications 
This course teaches identification of indicated and contraindicated conditions. Information regarding research of pathologies as they relate to the application of bodywork techniques will be presented. The decision making process as to whether to treat or not is discussed. Common pathologies are discussed.
Functional/ Palpatory Anatomy 
The objective of this course is to provide the student with a thorough hands on knowledge of the body planes, bony landmarks and the muscular and skeletal systems. Through power-point presentations, engaging lectures, instructor demonstrations and supervised palpatory trades, students will gain an extensive knowledge of muscle, skeletal joint  movement, and the pain patterns associated when soft tissue is the root cause of myofascial dysfunction.
Pathology for the Musculoskeletal System 
The objective of this course is to cover diseases associated with the muscles/joints/tendons and ligaments. These pathologies will be considered as they pertain to the practice of Massage therapy and be assigned as indicated or contraindicated for massage therapy.
Clinical Massage Therapy and Structural Bodywork© 
This course focuses on postural imbalances and faulty body mechanics that introduce or perpetuate painful conditions within the body as well as focusing on pain management and reconditioning for sustained injuries. This course offers an in-depth look at the various causes of muscle tension and provides insights into how it can be prevented and how it should be treated, how muscle tension directly and indirectly causes specific conditions and symptoms and the treatment strategies for reversing it.
Client Assessment Skills 
This course addresses the communication between the client and the therapist and how the information derived from this communication is shaped into an assessment used in developing a treatment plan.
Student Clinic
The objective of this practicum is to provide each student with real-life experiences within the massage therapy field. This course begins at mid-term, after completing the first half of training, to ensure ability and confidence. Students will participate in scheduled clinical sessions where they will be required to schedule appointments, perform call backs, greet clients, review client intake forms, perform a one hour massage and effectively close-out the session with client payment and evaluation.
All clinical practicums are fully supervised and are designed to be fun and informative.
Total Clock Hours – 500
PREVIOUS PAGE || TOP OF PAGE || TABLE of CONTENTS || NEXT PAGE
DON'T WAIT! … CONTACT US TODAY & GET STARTED