Graduation Requirements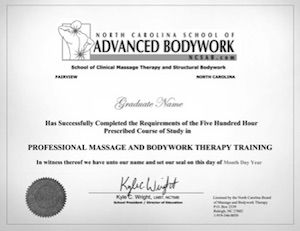 Program completion has occurred when the student has:
• Completed 500 in-class hours
• Satisfied all academic requirements for each course
• Fulfilled all financial obligations to North Carolina School of Advanced Bodywork
Upon graduation, the student will be awarded a Certificate of Completion and all official applications for the State Approved Examination and State license will be provided.
Completion of the Professional Clinical Massage Therapy Program will not guarantee licensure or employment within the field of massage therapy.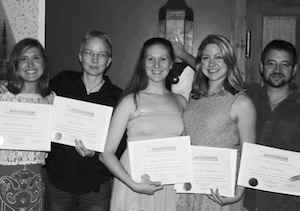 The North Carolina School of Advanced Bodywork makes no claim or guarantee that credit earned will transfer to another institution. If a student plans to transfer, it is advised that the other institution is notified and its requirements are established.
Student Complaint / Grievance Procedure
Any student grievance will be, if possible, handled between fellow students and / or instructors within their class. When necessary, grievances will be documented and handled through the Director's office within 5 business days.
* Students may contact the NC Board of Massage and Bodywork Therapy if necessary to resolve an issue.
NC Board of Massage and Bodywork Therapy
Post Office Box 2539
Raleigh, NC 27602
(919) 546-0050
Unlawful to Practice Without a License
Pursuant to the NC Massage and Bodywork Therapy Practice Act Article 36 90-623. License required.
(a) A person shall not practice or hold out himself or herself to others as a massage and bodywork therapist without first applying for and receiving from the Board a license to engage in that practice.
* Students while performing massage as part of their curriculum may never solicit or receive compensation of any kind for such services.
** Students who perform massage as a part of their curriculum (whether on or off the school premises) must wear a name tag identifying themselves as students and naming the school that enrolls them.
Denial of License
Pursuant to N.C.G.S. 90-629.1, the North Carolina Board of Massage and Bodywork Therapy may deny a license to practice massage and bodywork therapy if an applicant has a criminal record or there is other evidence that indicates the applicant lacks good moral character.
PREVIOUS PAGE || TOP OF PAGE || TABLE of CONTENTS || NEXT PAGE
DON'T WAIT! … CONTACT US TODAY & GET STARTED